---
About This Project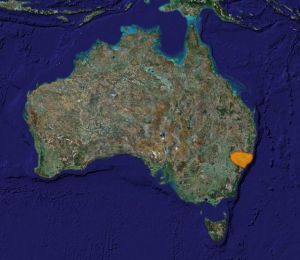 The Newcastle Music Directory was a unique resource for the local music community. This site aimed to showcase the music of Newcastle and provide a comprehensive index of websites that focused on the musical diversity of the region.
The directory was an attempt to bring regionality back to the internet, where huge websites threaten to homoginise the musical content, making the geographic origin of the music irrelevant.
The geographic area covered by this website is shown in orange on the map to the right. The area stretches roughly from the Hawkesbury river in the south to Taree in the North, and West to Merriwa in the upper Hunter Valley.
All of the musicians on this website were based in the area around Newcastle at some time between 1999 and 2011. The site was intended to be an archive of information for people looking for information about the music scene in this region.
The Newcastle Music Directory was compiled and maintained by Andrew Goodwin, who volunteered over 5000 hours of his time to maintaining the website and database. In 2005 Andrew was awarded with a Newcastle Community Volunteers Award for his work.
The website was continuously updated from 1999 to 2011, and remained online until mid 2021 when it was finally retired from the internet.
Although the website is no longer active, a full archive of the site can be found on The Internet Archive.
Some of the relevant parts of the archive include:
---
The Newcastle Music Directory aimed to provide the Newcastle region with:
a musical identity of its own that bands and artists are proud to identify with
a comprehensive list of current gigs and events
links to locally based websites that relate to the music scene
up-to-date and informative profiles for as many local bands and artists as possible
maps and information about local pubs, clubs and musical venues
an archive historical information about the local music scene for long term reference
a unified voice to highlight the musical talent of the region to people from other areas
---
Timeline
The following is a brief timeline outlining the project's major milestones:
November 1999 - Compilation of the database begins
May 2000 - 100th link added
January 2001 - Database back end migrated from flat file to a MySQL relational database. Scripting language changed from Perl to PHP
February 2001 - Current design and colour scheme established
March 2001 - 500th link added to database
October 31st 2001 - Launch of the TE Archive
January 2002 - 1000th link added to database
August 2002 - 250th Artist added
February 2003 - Database structure updated to separate Links and Artists tables
March 2003 - 2000th link added to database
June 6th 2003 - Site moved to new server to accommodate space and bandwidth requirements
June 2003 - 500th artist added
July 2003 - Artists database cross referenced with the articles in the TE Archive. Individual page provided for each artist. Number of links exceeds 3000
August 2003 - Songs entered in the 2002 and 2003 Newcastle Music Awards are indexed and a link to each entry is provided from the entrants profile.
September 22nd 2003 - Publication of the schedule of events for Newcastle Music Week 2003
September 2003 - 4000th link added to database
November 19th 2003 - 1000th Artist added
August 2004 - Entries in the 2004 Newcastle Music Awards indexed; Number of artists exceeds 1200
September 2004 - 5000th link added
September 8th 2004 - Site news moved to automated publishing system.
September 28th 2004 - Site updates made available via RSS.
July 2005 - Launch of NMBot, a web robot designed to improve indexing and maintenance of the links database.
August 2005 - Number of artists exceeds 1500
September 28th 2005 - Site operator Andrew Goodwin receives a Newcastle Community Volunteers Award for his work on the site.
October 2005 - 6000th link added to database
May 11th 2006 - 7000th link added; Number of artists exceeds 1700.
September 11th 2006 - Entries in Triple J's Unearthed Competition indexed.
September 25th 2006 - 8000th link added; Number of artists exceeds 2000.
September 26th 2006 - Launch of the Gig Guide.
October 12th 2006 - Site moved to Australian based server; All content moved to www.newcastlemusic.com.
October 16th 2006 - News system restructured.
November 23rd 2006 - 9000th link added; Number of artists exceeds 2500.
December 2006 - Videos section launched.
December 7th 2006 - Site Search functionality upgraded; Sitemap added.
January 2007 - Number of artists exceeds 2800.
February 27th 2007 - 5000th gig listed in the Gig Guide.
April 10th 2007 - Number of artists exceeds 3000.
May 11th 2007 - Restructure of the link categories. New categories include Managers and Agents, Sound and Lighting, Promotion, Photography, Production and Tuition.
May 24th 2007 - Launch of the Venues section of the site.
July 1st 2007 - 10,000th gig listed in the Gig Guide.
August 2007 - Additional RSS feeds made available.
September 6th 2007 - 1000th Video added to the site.
February 4th 2008 - 20,000th gig listed in the Gig Guide.
March 8th 2008 - Workshop given at the Port Fairy Folk Festival about internet technologies. Slides from the presentation are available here
April 5th 2008 - Number of artists exceeds 3500.
April 17th 2008 - Launch of the 1233 ABC Newcastle Music Awards Archive.
May 21st 2008 - Gig Guide upgraded; Number of Venues exceeds 500.
May 25th 2008 - Launch of the Gig Archive.
October 2008 - 30,000th gig listed in the Gig Guide.
October 27th 2008 - 10,000th MySpace Blog Post archived via RSS.
November 2008 - Site enters it's 10th year of continuous operation.
March 2009 - 40,000th gig listed in the Gig Guide.
March 27th 2009 - Number of artists exceeds 4000; number of venues exceeds 600.
July 2009 - 50,000th gig listed in the Gig Guide.
September 2009 - Links to artists Twitter profiles indexed.
October 21st 2009 - Artist's tracks uploaded to ABC Contribute embedded in theor profile page.
November 27th 2009 - Presentation given at the 2009 Open Source Developers Conference in Brisbane.
December 2009 - Newcastle Music Directory celebrates ten years of continuous operation.
January 2010 - Facebook page set up at facebook.com/newcastlemusic.
February 8th 2010 - Introduction of site logo. Provides consistent branding across website, Facebook and Twitter @newcastlemusic
May 2010 - Number of artists exceeds 4500; number of venues exceeds 700.
June 6th 2010 - Addition of the Twitter and MySpace feed indexing services.
December 2019 - Celebrates twenty years of continuous operation.
25th June 2021 - Site retired from internet